This specially curated trail by Mercure Singapore Bugis lets you experience the must-see sights in this heritage enclave. Stroll through Singapore's arts and cultural district, Bugis-Bras Basah, weaving past a myriad of historical and cultural sites, trendy shopping malls and hip eateries.
Sri Krishnan Temple, 152 Waterloo Street
Start your trail at Waterloo Street, a true showcase of Singapore's multicultural society and religious harmony where you will find a Chinese temple and a Hindu temple co-exist beside. At 148 years old at the time of this article, this is one of the oldest Hindu temples. The classical South Indian Hindu temple stands impressive with colourfully painted statues greeting devotees at the main entrance. Spot deities with detailed carvings adorned with precious stones from India.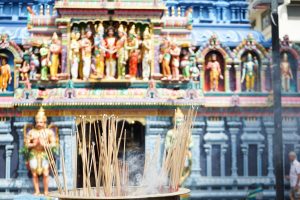 Kwan Im Thong Hood Cho Temple, 178 Waterloo Street
Situated right beside is the Kwan Im Thong Hood Cho temple, one of Singapore's oldest and most visited Buddhist temples. This temple is dedicated to the Goddess of Mercy, believed to bring good luck to worshippers. It was left undamaged during World War 2 while surrounding buildings were destroyed. Do not miss the statue of the Laughing Buddha, an iconic symbol of good luck at Waterloo Street.  Stroke the Buddha's tummy for good luck and happiness. On the eve of Chinese New Year, join an overnight queue with thousands of devotees to enter the temple for an auspicious start to the New Year.


Rainbow Ice Cream Sandwich, mobile carts along Waterloo Street
Beat the heat! This is where you'd want to make a pit-stop for a uniquely Singaporean treat. At only $1, choose from a variety of flavours and eat your ice-cream sandwiched between a wafer or rainbow bread.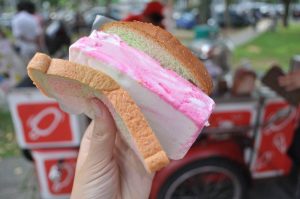 Albert Hawker Centre, 27 Queen Street
When lunch beckons: Stop by the ever-popular Albert Hawker Centre and be spoilt for choice with a diverse range of Singaporean staples. Affordable prices will make sure that you eat till your tummies are filled. Spot the snaking queues and you know the best stalls to check out. Some popular dishes include yong dou fu (chunky tofu pieces filled with prawn, pork and fish paste), lor mee (braised noodles), soya bean curd (smooth jelly) and Teochew fish soup.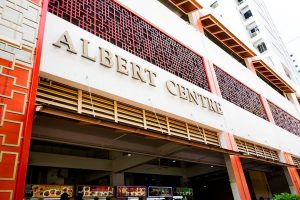 Singapore Art Museum, 71 Bras Basah Road
After lunch, get artsy with contemporary artworks at the Singapore Art Museum. This beautiful 19th century architectural exterior of a restored mission school will leave you in awe, before stepping into a world of contemporary art exhibits.

Bugis Street, 3 New Bugis Street
Come here for your shopping spree without breaking the bank. Popular with tourists and locals alike, Bugis Street was an attractive destination among British and American soldiers and sailors for its night life and street hawkers from the 1950s to 1980s. It is now a shopper's heaven where you can find trendy clothes and quirky souvenirs!Sin Tat Toys, 163 Rocher RoadBlast to the past at this nostalgic toy store selling childhood toys and games of all sorts that Singaporeans grew up with. Try the colourful chapteh (feathered shuttlecock), five stones and card games while navigating through rows of quirky looking trinkets.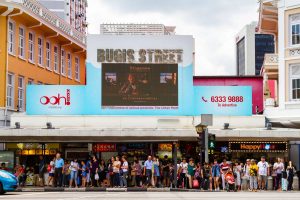 Sultan Mosque, 3 Muscat Street
As we enter into the evening, make your way towards Kampong Glam, a Malay-Muslim enclave. Here you will find a treasure trove of trendy exotic restaurants, indie boutiques, traditional shop houses selling colourful textiles, and unique arts and crafts. Head over to Sultan Mosque, one of Singapore's most important places of worship for Muslims. Originally built for the first sultan of Singapore in 1824, the impressive building will have you looking closely at the gold coloured domes. Each dome base is decorated with glass bottles donated by poor Muslims who wanted to contribute in their own little way during construction of the mosque.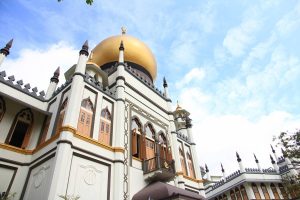 Haji Lane, Arab Street
One of the narrowest lanes in Singapore, Haji Lane is an artsy gem loved by hipster crowds. In the day, explore colourful rows of heritage Peranakan-style pre-war shop houses, charming cafes, fashion boutiques and add to your Instagram portfolio with the colourful graffiti wall murals. As night falls, it is the perfect place to unwind at a trendy bar with live music featuring indie local artists.