The building housing Novotel Singapore on Stevens and Mercure Singapore on Stevens represents a grand vision of the interconnectedness of people and the universe. The design of the hotel narrates a story of the "Power of Ten" and this concept illustrates the idea of four levels of perspectives – people, nature, atmosphere and the universe.
1.     People – The aerial view of the building forms the Chinese character, 人 (ren), meaning "people" in Mandarin. It represents the humanity behind hospitality. Like the 人 facade built strong, we are reminded that the foundation of the impeccable service provided to guests starts from the very essence with people. Take a walk through the Hotel to discover elements of 人, from the floor tiles to the decor on the walls.
2.     Nature – From the aspect of 人, zoom out by the Power of Ten and be amongst plants and nature. Stepping through the Hotel, you will encounter designs resembling contours of tree barks weaved into the carpets. Overlook the ground level from an external aerial view and you will find pebbles sprinkled over a lawn, represented by a series of organic glass pods. Lush greenery surrounding the building will allow you to enjoy all that nature has to offer. This is symbolic of the connectedness between people and nature, providing a gentle reminder to take care of our one and only Mother Earth.
3.     Atmosphere – Zoom out again by the Power of Ten from nature into the atmosphere. Inspired by the warm rain showers often experienced in Singapore, a chandelier aptly named "Summer Rain" will enchant you as you enter into the lobby of Novotel Singapore on Stevens. Powered by energy-saving LED light bulbs, the ivory hued chandelier brings you whimsical atmosphere.
4.     Universe – Zoom out by the Power of Ten once again from the atmosphere to the universe, to find yourself among the stars. Look up! The constellations are sparkling like diamonds above you. The Milky Way foyer is a common space connecting the Grand Polaris Ballroom and function spaces. Furnished with pebble-like sofas, they represent warm and friendly gatherings around a campfire beneath the stars.This final imagery brings us back into focus; back to the fundamentals of human relationships and connections, intrinsic to humans. While the four perspectives represent the importance and impact humanity has on nature and all of the universe.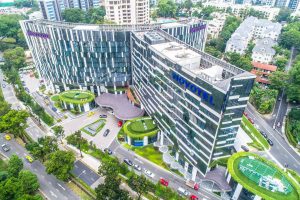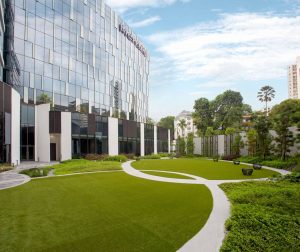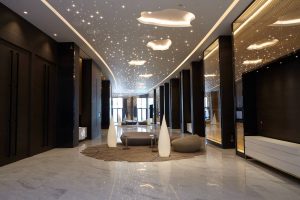 Picture Credit: DrivenxDesign